true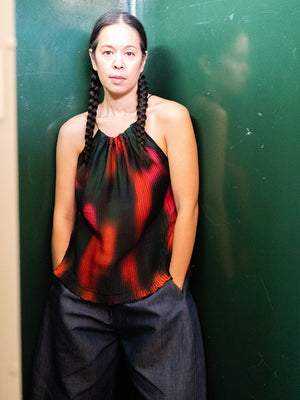 The re-edition of Rita top in the Hanabi print pattern is a recap of the collaboration with the textile designer Julia Heuer. The digital pattern was printed on a fine plissée fabric which was used to produce several unique pieces for the 2019 Winter collection. At the current moment, we have been looking to reduce waste and use up all the fabrics kept aside as surplus. This lovely sleeveless top, once in its sibling print: the sun & sea pattern, is now reborn in the deep tones of pink, purple, orange, and green. Try it and pair it with the Pli trousers, hanabi print, or, like Nicha is wearing, with our Balão trousers, denim blue.
Material: 100% Pes Plissée
Sizing: This top is One Size as the stretchiness of the fabric can fit many. 
Made in Portugal.